Learn by Doing in Social Sciences
Thanks to substantial donations last year we were poised to award over $10,000 for Learn by Doing student activities such as senior project research, attendance and presentations at professional conferences, and international travel for study abroad programs and research activities. To secure funding, students were required to submit formal proposals and their resumes to the faculty Learn-by-Doing committee with awards from $100 to $1000. Unfortunately, the COVID-19 pandemic thwarted most of the awards. Currently we are accepting applications for virtual conference attendance and presentations, and hope that funds we roll over for next year will be utilized if travel restrictions are loosened.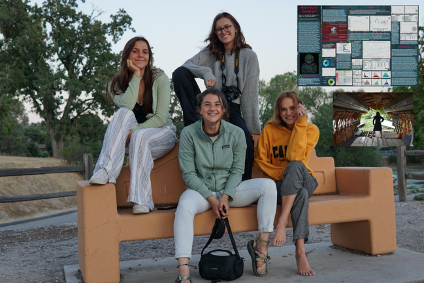 Clockwise from left: Siena da Costa Pinto,
Sophie Klitgaard, Madison Green, and Fiona
Papile (with Dr. Stacey L. Rucas to the right).
One notable student who was able to travel before restrictions were put in place was Elizabeth Barnes. She secured a $400 grant for airfare to Kauai to gather data for her senior project applying GIS to conservation of endangered birds. In doing so, she caught the attention of The Nature Conservancy and she beat out 700 applicants to secure a job! This is a great example of how a small grant to support student ambition can lead to life-changing opportunities.
Another exciting project, Dr. Stacey Rucas and a group of exceptional Anthropology-Geography students finalized a Learn By Doing behavioral ecology research project inspired by the current pandemic and individual reports of stress resulting from their perceived loss of control. The group used a mixed-methods approach to examine formative (adverse childhood experiences) and current ecological stressors (home stress, mortality and morbidity cues, Covid-19 risks) on locus of control for college aged individuals. Students worked together with Dr. Rucas in theory development, project and survey design, human subjects proposal writing, implementation, data analysis using SPSS & Excel, poster design and eventual presentation at the professional workshop. Their final product: "Are you in Control?" took the top spot, 1st Place Award at the California Workshop on Evolutionary Social Sciences (C-WESS) research conference and competition in July, 2020. While initially funded by a Learn By Doing grant, the conference went virtual and had no fees so the grant will be rolled over to this year and/or next year.
Related Content