Summer Job Opening with 5Cities Homeless Coalition
5Cities Homeless Coalition is looking for a full-time case manager for summer 2017. 
This job entails meeting 1v1 with homeless or potentially homeless youth (ages 16-24) and establishing an action plan with them in hopes of becoming self-sufficient and living independently. While working for a small non-profit organization means wearing many hats, this task will take up a majority of the work-day.
Position: Case Manager 
Classification: Full-Time 
FLSA: Hourly 
Reports To: Executive Director 
Compensation: $16 per hour 
Supervisory Responsibilities: No 
Summary
Reporting directly to the Executive Director, the Case Manager's primary focus is to address the specialized case management needs of participants in a homeless youth outreach program. The Case Manager works in coordination with partner agencies to address the broad array of client needs through referral to providers of necessary services, and in providing assistance with benefit and identification assistance. The Case Manager acts primarily as a care coordinator and client case manager, and may perform duties that include outreach, prevention and risk reduction, crisis intervention, health education, referral for substance abuse and mental health counseling, and benefits counseling. The Case Manager works with 5CHC's program administrative staff dedicated to various grants, ensures program funds are used according to grant requirements, and maintains quality assurance of case files. As part of the Case Manager's routine duties he/she will interact with other governmental, faith-based, nonprofit service providers and local businesses for client services.
Responsibilities
Program Implementation
 Assist clients with homework, obtaining resources, case plan development and mentoring, benefit applications, and supportive and subsidized housing paperwork
 Advocate for clients
 Assist clients by managing use of services and expediting service delivery through linkage activities
Case Management
 Assess client readiness for case management services based on needs and ability and willingness to participate in program
 Create case plans for clients with short, medium, and long-term goals and the steps to achieve those goals
 Assist in developing savings and budget plans in preparation for eventual independent living, including the development of benefit enrollment applications
 Prepare case-related reports including outcomes, successes and challenges
 Assist in the development of basic standards for case management that are flexible and adaptable
 Establish and maintain collaborative working relationships with community resources
 Provide relevant referrals to agencies and service providers based upon the goals and objectives mutually agreed upon with the client
 Advocate for clients with agencies and service providers to minimize barriers to clients receiving needed services
 Follow up with referrals to ensure that clients receive and access necessary services in a timely manner
 At the request of the Executive Director, generate reports for meetings of the board of directors
 Perform other related duties as required
Outreach and Relationship Management
 Network with other agencies, coalitions, and local community meetings
 Work in the community to provide information regarding resources and service opportunities
 Actively participate in staff meetings and trainings
 Perform other duties as assigned
Qualifications
 Possess a minimum of an A.A. degree in a related field
 Has experience in non-profit management, case management and/or program development
 Has experience with social services and/or homeless programs
 Possess the ability to use computers and proficiency in Microsoft Office software, particularly Excel
 Is a highly motivated self-starter, with proven ability to develop creative solutions
 Project a professional demeanor and possess excellent written and oral communication skills, interpersonal skills, and ability to work both individually and as part of a team
 Able to maintain regular attendance
 Able to multi-task and remain calm in demanding and unpredictable situations
 Able to maintain a professional, customer service-oriented attitude at all times
 Able to meet face-to-face with homeless individuals of diverse backgrounds and disabilities, including physical, mental, substance abuse, HIV/AIDS, etc. and able to develop rapport, provide information, and refer with sensitivity to cultural issues
 Display a high level of initiative, effort and commitment towards completing assignments efficiently
 Possess excellent time management skills and the ability to work with minimum supervision
Other Requirements
 Successfully complete an employment eligibility verification and background screening
 Possess reliable transportation, valid driver's license and auto insurance
 Pass a current tuberculosis test
 Possess or upon employment obtain CPR/First Aid Certification
Essential Functions
The physical demands described here are representative of those that must be met by an employee to successfully perform the essential functions of the job. Reasonable accommodations may be made to enable individuals with disabilities to perform essential job functions.
In the course of performing the job, the person in this position typically spends time sitting, standing, climbing stairs, walking, driving, carrying (20lbs), lifting (20lbs), operating a computer keyboard, firm/strong grasping and repetitive hand control, making and receiving telephone calls. Subjected to outside environmental conditions.
p.p1 {margin: 0.0px 0.0px 0.0px 0.0px; font: 12.0px Calibri} p.p2 {margin: 0.0px 0.0px 0.0px 0.0px; font: 12.0px Calibri; color: #0433ff} span.s1 {font-kerning: none} span.s2 {text-decoration: underline ; font-kerning: none}
If interested, contact:
Bradley Zimmer
brad.zimmer@5chc.org
Office: 805-574-1638
Cell: 805-249-9740
5 Cities Homeless Coalition
5CHC.org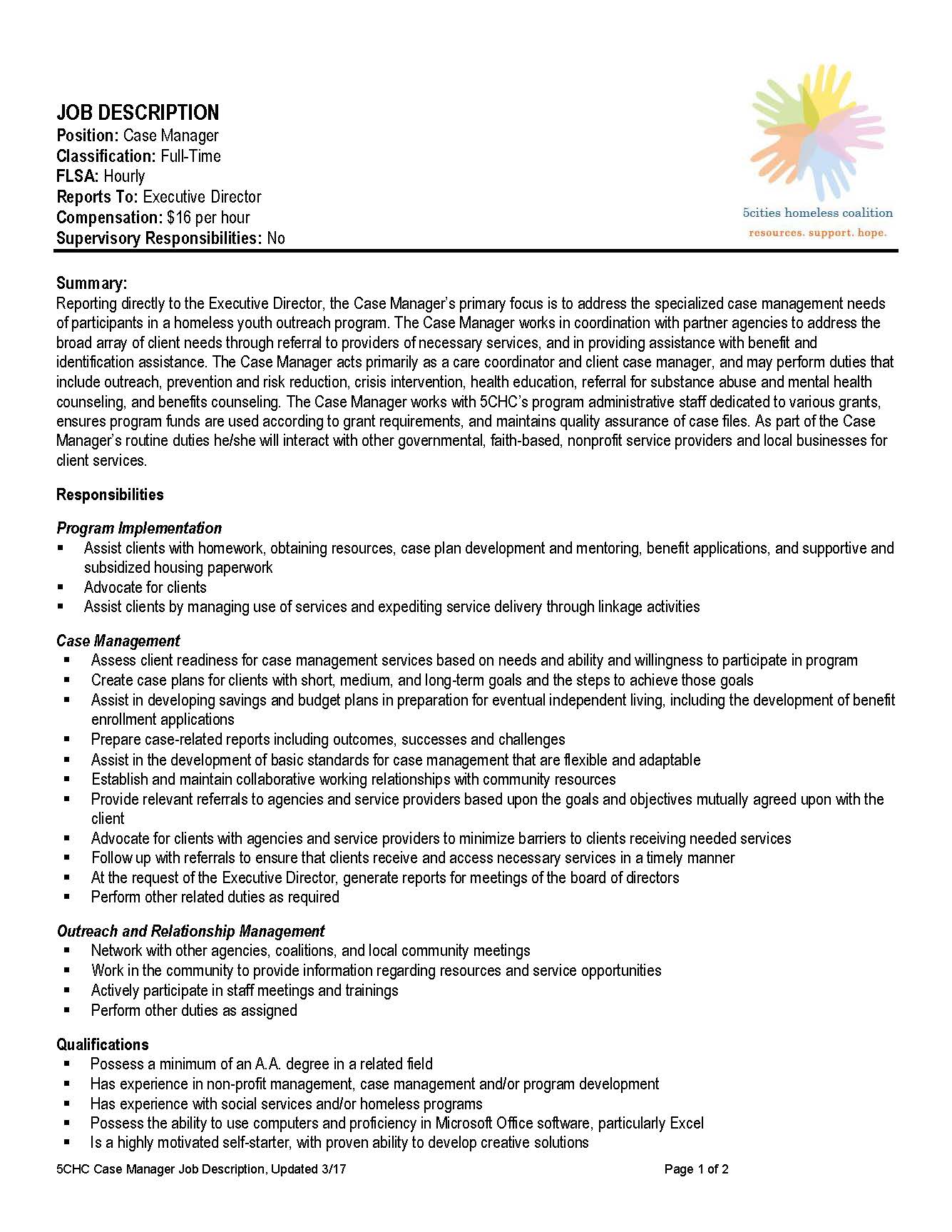 Related Content